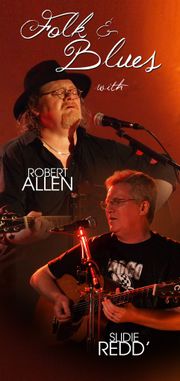 Kumpel & Waffenbrüder seit 30 Jahren; 
auf der Bühne, im Studio...und in der Kneipe
um die Ecke.
Seit Januar 2013 ein akustisches Folk & Blues Duo
mit Gitarre, Dobro, Banjo & Mandoline.
Überwiegend Eigenkompositionen,
angereichert mit Blues & Traditionals
aus Irland und den USA.
Buddies & brothers in arms of 30 years;
on stage, in the studio...and in the pub
around the corner.
An acoustic folk & blues duo since January 2013,
playing guitar, dobro, banjo & mandolin.
Mostly self-penned songs,
enriched with Blues & Traditionals from Ireland & USA.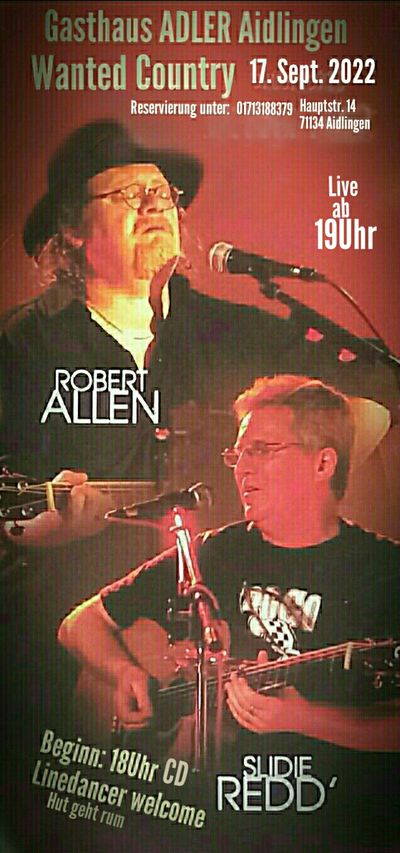 >>> Oktober 2020 <<<
Nun, wegen COVID läuft derzeit nicht viel, was Musik und generell Auftritte betrifft. 
Wie man sich denken kann, stehen Kneipiers, Veranstalter u.ä.
nicht gerade Schlange, um Konzerte zu veranstalten... 
Wir warten auf 2021 & bessere Tage, wie alle anderen auch.
Well, thanks to COVID there's not much going on these days, musically speaking.
As you most certainly can imagine pub owners, promotors & the likes
aren't lining up to sign acts...
So we're waiting for 2021 & better days, just like everybody else.
>>> November 2019 <<<
NEUES LIVE-PROGRAMM
Wir arbeiten z.Zt. an einem neuen Set für 2020, der voraussichtlich aus ausschließlich eigenen Songs besteht, von denen keiner jünger als 20 Jahre ist (der älteste stammt von 1990!)
Ja ja, alte Männer hegen & pflegen ihre Erinnerungen eben...
NEW LIVE SET
We're currently rehearsin a new live set for 2020, most likely consistin of all but our own songs; all of 'em written before the millennium (the oldest one bein from 1990!).
Well, old men lavish care on their memories...
>>> August 2019 <<<
STRASSENMUSIKFEST HERRENBERG
12. Juli. Ein heißer, hin und wieder regnerischer/stürmischer Spätnachmittag/Abend.
Nicht nur wegen des Wetters wurde es für uns zu einem so denkwürdigen wie anstrengenden Auftritt (wir spielten zwei je einstündige Sets; Fotos siehe unten): Wir hatten uns nämlich dafür entschieden, auf jegliche Technik zu verzichten, also tatsächlich "unplugged" zu spielen - sowohl eine wehmütige wie auch romantische Hommage/Erinnerung an unsere ferne Jugend als Strassenmusiker.
Der denkwürdige Teil war, dass wir junge, talentierte & ebenso furchtlose Musiker trafen, auch wenn - ohne respektlos zu erscheinen - einige wenige andere besser bei DSDS aufgehoben gewesen wären. Der anstrengende Teil war, ohne die gewohnten Hilfsmittel gegen Strassen- wie Zuschauerlärm ansingen zu müssen. 
Dennoch unser Rat an aufstrebende wie etablierte Musiker, die sich zuallererst der Kunst und nicht dem Posieren verschrieben haben: Wenn ihr die Gelegenheit bekommt - macht es!
Es schärft die (musikalischen) Sinne, lehrt die nötige Bescheidenheit und hält euch auf dem Boden der Realität eurer musikalischen Fähigkeiten, und relativiert nicht zuletzt die Bedeutung der scheinbar so unerlässlichen Technik...
Bleibt drauf!
DAYS OF STREET MUSIC 
July 12. A hot, occasionally rainy/stormy late afternoon/evening.
It wasn't just for the weather, that it's been a likewise memorable & exhaustin gig for us.(we had an obligation to play two one-hour shows; see pix below): Well, we had decided to skip electricity altogether & to play "unplugged" for real - a likewise nostalgic & romantic tribute/memory of our distant young days as street musicians.
The memorable part was gettin to meet some young, talented & fearless musicians, even though - not bein disrespectful - there were a few others who had better have sticked to American Idol. The exhaustin part was singin against the noise & the spectators without the usual tools.
Anyway, here's our advice to all upcomin as well as established musicians, who first of all are dedicated to art instead of posing: If ya got the chance to do it - just do it! It'll sharpen yer (musical) senses, teaches essential modesty & keeps ya at the base of yer real musical skills, and, last but not least, puts those granted & seemingly essential technics in their place...
Stay tuned!
>>> April 2018 <<<
WILLKOMMEN KAI!
Seit diesem Frühjahr zeichnet unser Freund & Bruder Kai (alias "Sharkai") mit seinen magischen Händen & Gerätschaften für unseren Live-Sound verantwortlich.
WELCOME KAI!
Since this spring our friend & brother Kai (alias "Sharkai") is lendin his magic hands & gear
to our live sound.
Robert Allen & Slidie Redd'
GOOD BOYS DON'T BOOGIE   (2014)
ARTIGE JUNGS…(*)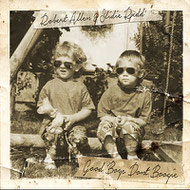 1 Slidie's Run  2 Work  3 Race Track Blues  4 (Bring It) Home Tonight
5 Alone (In Bad Company)  6 Hard Times Are Over Now 
7 The End Of The World (Will Be A TV Show)  8 Hard Times Boogie
9 I Am As I Am (So Will I Be)  10 Lost And Gone  11 At Last…..(49:03)
> arranged & performed by Robert Allen & Slidie Redd', December 2013 to February 2014
> recorded & mixed by Narrow Miss Ltd.
> all songs by Robert, except "Slidie's Run" by Slidie
> lyrics to "I Am As I Am" adapted from Sir Thomas Wyatt (1503-1542)
> photographs by  GP Senftle
> sleeve design by Rob Senftle (for www.vipergfx.com)
> produced by The Boogie Boys for Narrow Miss Productions
Selbst artige Jungs werden der endlosen Proben einmal müde; und als dazu
bizarre Live-Auftritte die üblicherweise gute Laune auf eine harte Probe stellten (Roberts Stimme war wochenlang buchstäblich im Eimer), erschien glücklicherweise ein Silberstreif in Gestalt der tröstlichen Abgeschiedenheit des Heimstudios
am Horizont... 
Wie man sicherlich an dieser Sammlung von neuen (bzw. älteren) Liedern hören kann, sind wir – allen Widrigkeiten zum Trotz – artig geblieben, weshalb man uns verzeihen möge, wenn wir auf den Titel der CD (*) nicht näher eingehen, um den geneigten Hörer ob der verschiedenen Bedeutungen des Wortes "boogie" nicht in Verlegenheit zu bringen…
Even good boys at times get tired of endless rehearsals, and when weird live shows began to try their patience & good mood (Robert's voice was literally shot for weeks),
a silver lining in the form of the comforting isolation of the home recording studio luckily appeared on the horizon…
As you can very probably hear by this bunch of new (respectively older) songs
we're still good boys against all odds; therefore we assume you won't mind us
for not going into the CD's title (*) in detail, not wanting to embarrass the willing listener concerning the different meanings of the word "boogie"….
>>> ROBERT & SLIDIE Demos 2013 <<<
1 "Jesse James"...Traditional; arranged by Robert & Slidie
2 "I Am As I Am (So Will I Be)"...by Robert Allen 
3 "Convert Man"...by Robert Allen

>>> CD "Good Boys Don't Boogie" 2014 <<<
4 "Alone (In Bad Company)"...by Robert Allen

5 "(Bring It) Home Tonight"...by Robert Allen