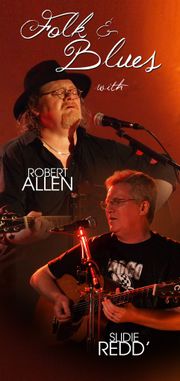 Kumpel & Waffenbrüder seit 30 Jahren; 
auf der Bühne, im Studio...und in der Kneipe
um die Ecke.
Seit Januar 2013 ein akustisches Folk & Blues Duo
mit Gitarre, Dobro, Banjo & Mandoline.
Überwiegend Eigenkompositionen,
angereichert mit Blues & Traditionals
aus Irland und den USA.
Buddies & brothers in arms of 30 years;
on stage, in the studio...and in the pub
around the corner.
An acoustic folk & blues duo since January 2013,
playing guitar, dobro, banjo & mandolin.
Mostly self-penned songs,
enriched with Blues & Traditionals from Ireland & USA. 
Robert Allen & Slidie Redd'
GOOD BOYS DON'T BOOGIE   (2014)
ARTIGE JUNGS…(*)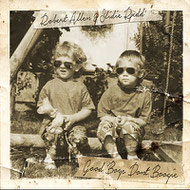 1 Slidie's Run  2 Work  3 Race Track Blues  4 (Bring It) Home Tonight
5 Alone (In Bad Company)  6 Hard Times Are Over Now 
7 The End Of The World (Will Be A TV Show)  8 Hard Times Boogie
9 I Am As I Am (So Will I Be)  10 Lost And Gone  11 At Last…..(49:03)
> arranged & performed by Robert Allen & Slidie Redd', December 2013 to February 2014
> recorded & mixed by Narrow Miss Ltd.
> all songs by Robert, except "Slidie's Run" by Slidie
> lyrics to "I Am As I Am" adapted from Sir Thomas Wyatt (1503-1542)
> photographs by  GP Senftle
> sleeve design by Rob Senftle (for www.vipergfx.com)
> produced by The Boogie Boys for Narrow Miss Productions
Selbst artige Jungs werden der endlosen Proben einmal müde; und als dazu
bizarre Live-Auftritte die üblicherweise gute Laune auf eine harte Probe stellten (Roberts Stimme war wochenlang buchstäblich im Eimer), erschien glücklicherweise ein Silberstreif in Gestalt der tröstlichen Abgeschiedenheit des Heimstudios
am Horizont... 
Wie man sicherlich an dieser Sammlung von neuen (bzw. älteren) Liedern hören kann, sind wir – allen Widrigkeiten zum Trotz – artig geblieben, weshalb man uns verzeihen möge, wenn wir auf den Titel der CD (*) nicht näher eingehen, um den geneigten Hörer ob der verschiedenen Bedeutungen des Wortes "boogie" nicht in Verlegenheit zu bringen…
Even good boys at times get tired of endless rehearsals, and when weird live shows began to try their patience & good mood (Robert's voice was literally shot for weeks),
a silver lining in the form of the comforting isolation of the home recording studio luckily appeared on the horizon…
As you can very probably hear by this bunch of new (respectively older) songs
we're still good boys against all odds; therefore we assume you won't mind us
for not going into the CD's title (*) in detail, not wanting to embarrass the willing listener concerning the different meanings of the word "boogie"….
>>> ROBERT & SLIDIE Demos 2013 <<<
1 "Jesse James"...Traditional; arranged by Robert & Slidie
2 "I Am As I Am (So Will I Be)"...by Robert Allen 
3 "Convert Man"...by Robert Allen

>>> CD "Good Boys Don't Boogie" 2014 <<<
4 "Alone (In Bad Company)"...by Robert Allen

5 "(Bring It) Home Tonight"...by Robert Allen